Find out more about our brand new podcast and what to expect from season one
After nearly 20 years in the mental health and wellness industry, here at Happiful we've learnt a lot. One of the lessons we're constantly reminded of is the fact that we are all incredible, unique beings. We all have different life experiences, different stories that shape us and different ways of seeing the world.
This uniqueness is something we feel can be lost when we enter the world of wellness. Media headlines and viral social posts can have us convinced that this one thing is going to work for everyone. The next day, something else takes its place. Then friends start raving about what works for them while family members turn their noses up at what doesn't… No wonder we're often left with our heads spinning.
How then, can we find what works for us when it comes to wellbeing? This is the question we'll be exploring in our new podcast, Happiful: Finding What Works.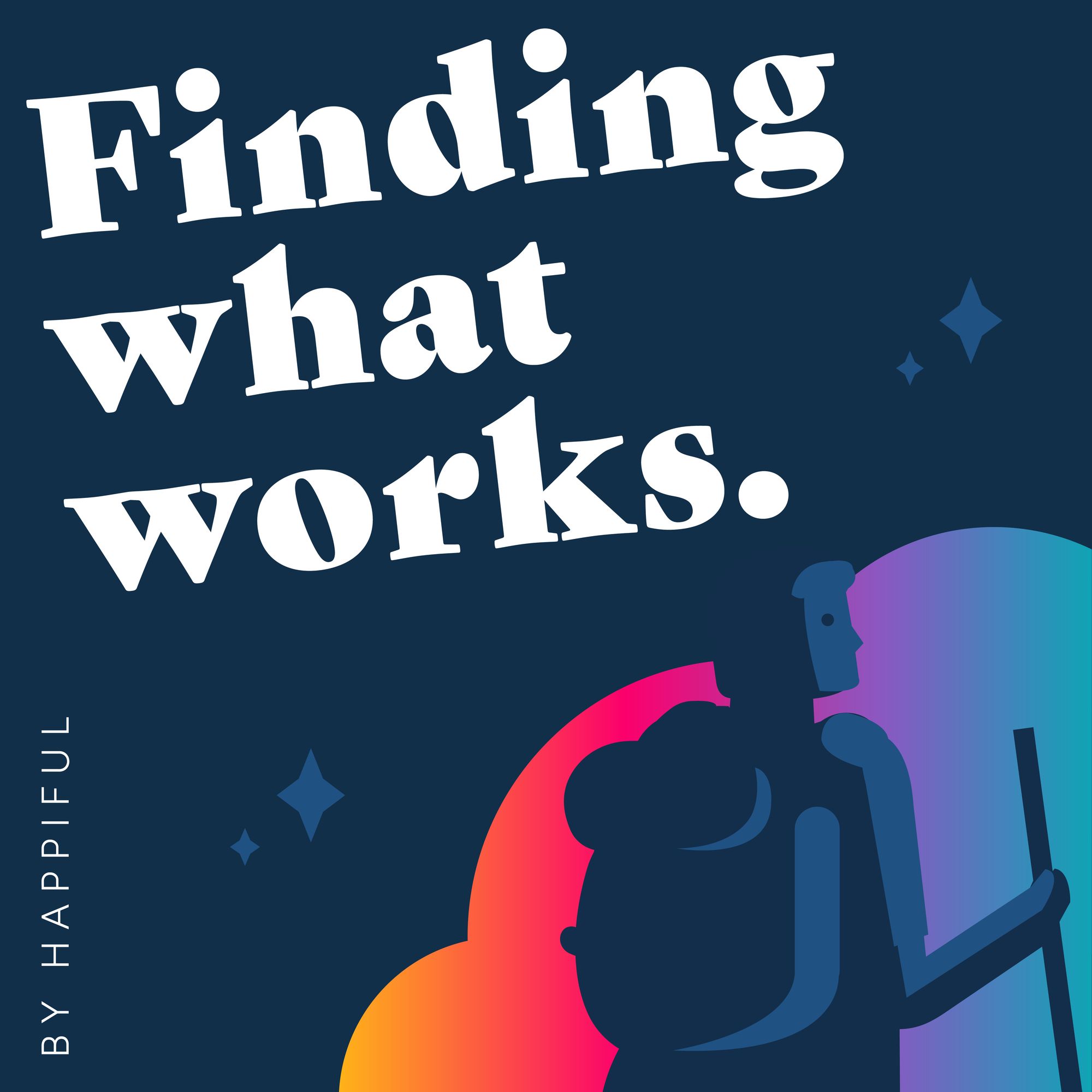 The trailer…
Keen to hear more? Listen below to our trailer for a taste of what's to come.
What to expect
In season one, we'll be looking at topics that are paramount to wellbeing, from friendship to resilience. Each topic will be explored slowly, over the course of two episodes. The initial episode will be conversational; a longer episode in discussion with both professionals and those with lived experience. The follow-up episode, which we've lovingly dubbed 'The Exhale', will be short, sweet, and practical. Here we'll reflect on learnings from the previous conversation and encourage you to do something practical to take what you've learnt and put it into practice.
The aim will be to not only explore what may work for you when it comes to these topics, but also to unravel the nuances at play. What does it mean for something to 'work'? What societal factors are holding us back? Who might this not work for? We'll zoom in on the individual and zoom out to the societal because we may be unique, but we're not alone.
To kick things off, we're launching with an introductory episode on 30 August. Here you'll be introduced to the premise of the podcast, your host and why we're so passionate about the project.
How to listen
Subscribe wherever you get your podcasts, including iTunes and Spotify, to ensure you don't miss an episode. After our first episode on 30 August, new episodes will be released weekly. We'll be sharing transcripts here too, so if you prefer (or need) to read, we've got you covered.
---
Transcript for trailer
When it comes to your mental health and wellbeing, what works for you? A simple question, you might think but… the answer may not be so simple. We're all unique people, on our own journey, at different stages of life. What works for me, might not work for you.
So how can we find what works, not only for us as individuals but as a society? And what does it even mean for something to 'work'?
Our new podcast — Happiful: Finding What Works — looks to answer these questions.
We'll be speaking with both experts and people with lived experience, taking a 360-degree look at different mental health and wellbeing topics.
Following each conversation, we'll also release 'The Exhale' episode. These bite-sized prompts will encourage you to pause, process and put the learnings of the previous episode into practice.
I'll be your host, Kat Nicholls. Through my time here at Happiful and my own personal journey, I've learnt the hard way about the things that absolutely do not work for me. But I've also discovered some incredible tools that do.
And while I'm very much still navigating the wellness industry, I hope that through these conversations, we can do just that. Navigate our way to what works.
Our first episode will be with you on Wednesday the 30th of August, with new episodes released weekly. Join me as we find what works for us — together, and subscribe wherever you get your podcasts.
---
We hope you'll tune in and be sure to follow us on socials to join the conversation after each episode.