New research suggests a link between levels of bird diversity and mental health hospital admissions
Many of us know that nature can have a positive impact on our wellbeing. We're often encouraged to spend time in nature, allowing ourselves to be held by the peace that can only be found in the company of trees.
Now, researchers are starting to take a closer look at different aspects of nature's effect on our mental health. Recently, researchers turned their attention to birds, finding that areas with lower bird diversity have higher numbers of mental health related hospital admissions.
These findings were uncovered after analysing data from the online database ebird to estimate diversity in bird species throughout the US state of Michigan. Researchers then combined this data with the number of hospital admissions due to anxiety and mood disorders in the state.
Their findings showed the link between lower levels of diversity and higher numbers of hospital admissions. Overall, researchers said income and the presence of green space continue to be the strongest predictors of mental health related hospital admissions, but there are also "significant associations" between mental health and bird diversity.
Commenting on the findings, lead author and assistant professor at the Institute of Environmental and Interdisciplinary Sciences at Carleton University in Canada, Dr Rachel Buxton said we often consider 'nature' as the amount of green space near homes, but that the link between species diversity and health is underexplored.
"Our study shows that if species diversity can affect mental health at the severe end of the spectrum (hospitalisations), it is possible that the decline in biodiversity across the globe may be intricately connected with our anxiety and mood on a day-to-day basis."
Dr Buxton continues to highlight a need for taking a holistic approach to mental health and nature, noting that investing in nature should not be seen as a luxury, but as a necessity.
Biodiversity is falling across the globe, with Biodiversity Stripes website showing a visual representation of levels decreasing. The stripes use data from the Living Planet Index, which tells us that biodiversity has dropped 69% since 1970.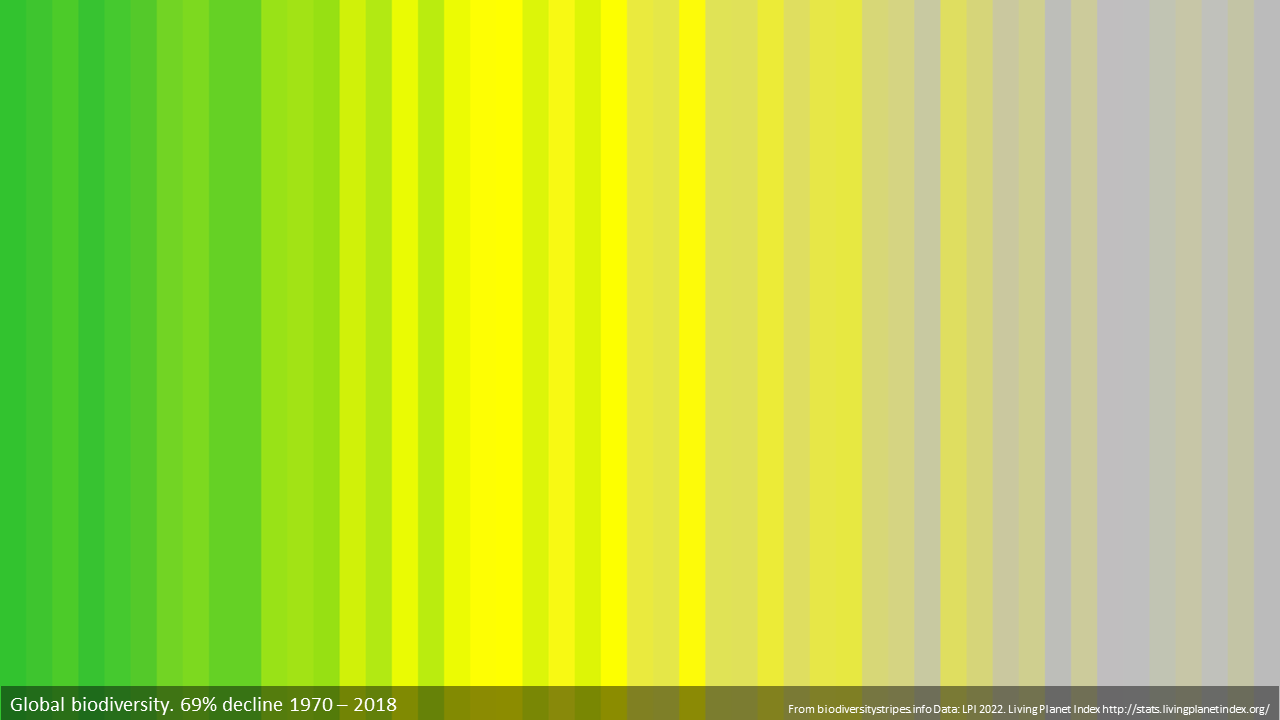 This all shines a light on change that needs to happen and the varied reasons biodiversity is important. We can play our part in this by being more eco-friendly and supporting those driving larger change.
When it comes to birds specifically, we have more data backing up what's been found here. A study from King's College London found that listening to birdsong or watching birds is linked to mental wellbeing, noting effects lasting up to eight hours.  
So, what is it about birds that bring us so much joy? Speaking to Happiful about the benefits of birding, Jamie Wyver from the Royal Society for the Protection of Birds (RSPB) explains.
"You might not see another person all day, but the blue tits, robins and blackbirds that hop, flutter and sing in your garden cheer you up, and make you feel less alone – more connected to the outside world."
Regardless of where we live, many of us see birds in our day-to-day lives. Whether it's a pigeon peeking into your office window or a blue jay flashing its electric blue feathers at the park, every bird reminds us that we're part of a thriving network of nature. Recognising this and being more mindful of our encounters with feathered friends could help us reap the benefits.
Looking for more ways to embrace the positive power of nature? Take a look at these articles: