Happiful Press centre
The Happiful network can help with press and media enquiries by connecting you with our database of over 22,000 mental health and wellbeing professionals. We have qualified spokespeople with a range of specialisms who are open to media requests.
If you work in the media and are looking for comments or to interview a professional please get in touch via email at press@happiful.org.uk or phone 01276 580 008 with your requirements.
Happiful Press Team
Please contact us for further support and information.

Alice Greedus
PR manager
Contact for all PR opportunities, press requests, spokespeople, facts, data, or quotes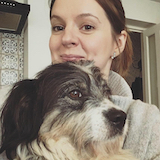 Lucy Donoughue
Head of project and partnerships, host of I am. I Have
Contact for partnerships or enquiries around Happiful's podcast
Experts for interview
Our experts specialise in a range of areas, we can connect you with:
Data and topics of interest
Our team can source data from our directories and share the findings of our latest surveys with the media
We can cater for individual and exclusive requests for data or can provide a list of our main findings for the month.
We have been featured in